Security for Every Layer of Your Business
Security touches not only software and applications, but every layer of your network infrastructure, vendors, and staff.
Start with a Strategy
Sound security requires a strategy that aligns people, processes and policies that you can build on as the threat landscape continues to change.
Threats are growing more hostile, budgets have been tightened, and skills remain at a premium. Yet important modern business imperatives like mobility, social media, web applications and big data pose ever increasing risks and inefficiencies if not properly managed.
There are countless configurations you can implement to your infrastructure to get started off on the right foot. Most often, however, the problem isn't starting off with strong protection- it's staying current with industry changes, updates and best practices.
Evolving Cyberthreats Require Evolving Security Standards
Security practices need to be fortified with continuous testing, monitoring and review. Superior Managed IT can help you solve these challenges through our integrated technologies, world-class threat intelligence, and highly flexible managed services tailored to meet the unique needs of your business.
Your Business Needs a Proactive Security Partner
Superior Managed IT has proven compliance and security expertise, sophisticated threat management capabilities, and business-class 24/7 support paired with fully integrated technologies and flexible managed services.
We help our clients get away the "daily firefight" that diverts time and resources away from critical business operations.
We will help you establish an automated, proactive and sustainable data protection, compliance management and business enablement strategy that will save you time and money.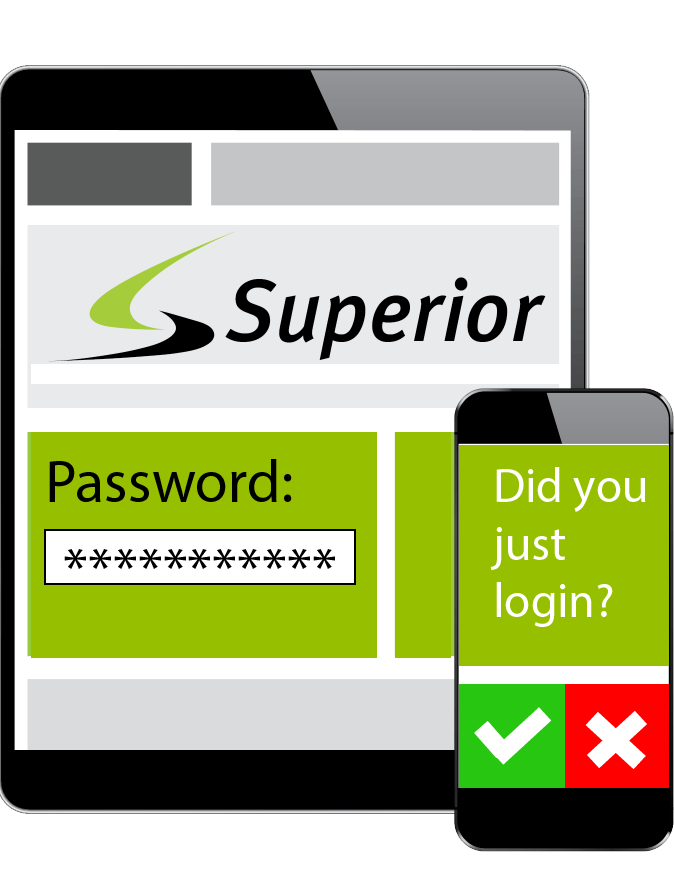 Benefits of a Managed Security Service
Patch Management
Patches are updates that address specific vulnerabilities that can be exploited.
On a monthly basis, our centralized patch management software deploys Microsoft patches and updates, along with third-party software patches from a central point of control.
Antivirus
Our Remote Monitoring and Management (RMM)  software centralizes antivirus monitoring and patch management to allow us to receive notifications as threats are detected on servers and workstations, and quickly remove the malicious content before it spreads.
Elevated Support
Our managed services provides 24x7 monitoring and notifications on your network. Our afterhours support team is quick to respond to all high and critical priorities.
As a Managed Services customer, you will have access to our Client Portal to submit tickets quickly and easily to our Service Desk. 
On-Site Surveys
Whether your security needs require semi-weekly, weekly, bi-weekly, or monthly site visits, we have a strong team available to meet your schedule.
Our skilled network technicians are diligent in detecting red flags and remediating them quickly. 
Network Security & Compliance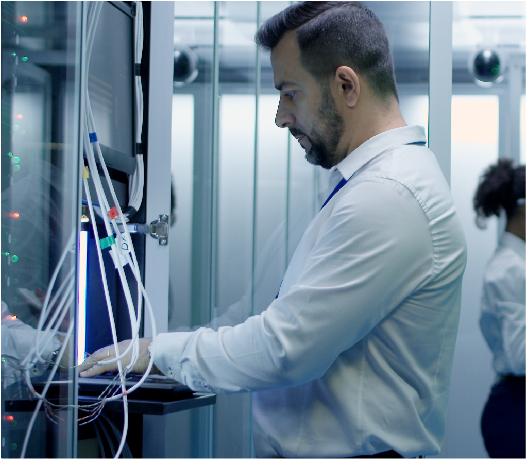 Security is a High Priority
If you're a business owner, security is a high priority to you. If it hasn't been in the past, now is the time to build a strong defense.
A lot of industries we work with have regulatory compliance requirements they need to meet. They come to us when they need help with their network and infrastructure compliance because of our quick, non-invasive methods for data collection and analysis.
Our top 3 industries that we've helped are: 
Manufacturing - (Military, Aerospace, and Department of Defense (DoD) contractors)
Healthcare
Finance
Compliance-as-a-Service (CaaS)
Whether you are a contractor for the DoD and have to meet the new Cybersecurity Maturity Model Certification (CMMC) compliance requirements, NIST 800-171 standards, HIPAA or ITAR regulations (to name a few), we can get your company on the right track to compliance.
Tools for Testing, Monitoring, and Remediation
A few of our network security services and vulnerability management tools include Rapidfire Tools, Cyberhawk, Passly, and Dark Web ID. 
We utilize these tools to:
Proactively scan your network devices
Test and remediate vulnerabilities with your applications, databases and network
Identify and analyze end-user behavior
Detect changes made to user accounts: elevated permissions, additional security group access, etc.
Overview of a Network Security Assessment

Whether you're looking for an assessment to meet regulatory standards set by the Department of Defense for CMMC and NIST 800-171, or operate under HIPAA regulations, we offer flexible compliance services and solutions.
Compliance-as-a-Service (CaaS)
CaaS is the latest service offering within our cybersecurity and compliance-focused solutions.
With CaaS, we can utilize the following features from our tools to give you the transparency you need for regulatory commerce:
Automated Scans
Online Forms and Worksheets
Task Assignment and Notification
Auditor Checklists
Scheduled Scans
Risk Treatment Plans
Key Features of Managed Compliance
| | | |
| --- | --- | --- |
| FEATURE | DESCRIPTION | BENEFIT |
| Automated Scans | Technical scans performed by the Compliance Manager software. | Removes human error by using the appliance to collect technical data. |
| Online Forms and Worksheets | Complete worksheets and forms to provide information that isn't obtained through automated scans. | Brings all pertinent network information into a single location that cannot be collected automatically. |
| Augment Data from Automated Scans | Non-generic forms are created using the data collected within your network. | Answer questions about your unique environment, users, and devices for details that cannot be collected automatically. |
| Auditor Checklists | Summary documents of compliance with cross-references to other documents, including Evidence of Compliance. | Assesses your compliance position to easily show Auditors how you are going about compliance. |
| Evidence of Compliance | A document that shows detailed information from automated scans, augmented data, and questionnaires. | Keeps information organized in one document to back up the Auditor Checklists with accurate data. |
| Information Policies and Procedures | For organizations that may not have information policies and procedures (P&P) implemented, we provide a standardized P&P that is designed as a starting place. | Since one of the first requirements for regulatory compliance is to have a P&P in place that conforms to compliance standards, we provide one ready to implement into your organization. |
| Scheduled Scans | Performs re-scans on a periodic basis | Looks for when you might need to updated compliance documentation to be current.  |
Fortinet's Security Fabric

Fortinet is our leading partner for network devices. With certified network engineers on staff, we have years of experiencing configuring and deploying infrastructures behind the protection of Fortinet's Security Fabric. We deploy devices with manufacturer support for Unified Threat Management (UTM) protection across next-generation firewalls, switches, and wireless access points, most commonly.
Within Fortinet's Security Fabric, our customer's utilizing these products benefit from the following AI-driven threat management:
Detection
Prevention
Protection
Remediation
Antivirus
We support all antivirus software. Our primary antivirus partner is Webroot, but we have worked with most, including: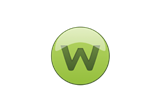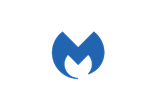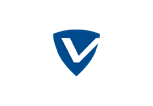 1306 County Rd F West
Suite 200
Minneapolis, MN 55112
Service Desk: 612-788-9233
Inquiries: 612-999-6200
Contact Us Today for a Free Consultation
Your Business IT Partner
Superior Managed IT can manage, or assist you with, your IT assets across their entire lifecycle.
From assessment, design, migration and deployment to ongoing management and security. We serve small to midsize businesses across the Twin Cities as their trusted business technology partner.
IT Assessments & Advisory
Elastic & Redundant Cloud Solutions: Planning, Migration, Deployment & Management
Reliable Service Desk & Monitoring 365x7x24
Remote & On-Site Support
IT Security Solutions for Any Environment
Unified Communications  & Collaboration (UC&C) including VoIP, Messaging, IVR, Voicemail, Mobility, Presence, and Conferencing
And much more!
Contact us today for your free consultation!