Multi-Factor Authentication
The Key to Cloud Security
Keeping on the topic of e-mail security from last month's post, another great way to secure your e-mails is by setting up Multi-Factor Authentication (MFA) for your accounts.  
MFA is displayed here as a password entered into one device and requiring a secondary device for approval to login.
Not only can this be used for your e-mails, but many other web-connected applications have this as an optional feature for your security.
For some apps, it's even a mandatory part of your sign-in process (i.e. financial apps)!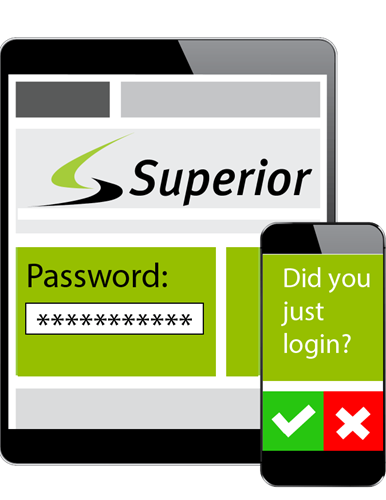 What is MFA?
Multi-Factor Authentication, otherwise referred to as Two-Step Verification, Two-Factor Authentication, or Dual Authentication, and refers to having an additional step in place to verify your identity.  
When working with Microsoft apps, the additional step can be a text, a call, or even a notification on your phone. This step is then required after entering your username and password on unfamiliar devices. 
MFA combines at least two out of the three following security measures:
Something that you know (password)
Something that you have (mobile device, email address)
Something that you are (bio-metrics: fingerprint, iris scan, facial recognition, etc)
Why You Should Enable MFA
As regular computer users, we are already familiarized with entering some username and password to access mostly everything computer-related. However, what if someone else obtained your credentials?
Unfortunately, this is occurring regularly, sometimes without our knowledge. Data breeches, malware, phishing, or that password reminder left on a desk could compromise your information and identity!  
This is why establishing an additional identity check through Multi-Factor Authentication really makes sense.  
Even if your username and password are being used by someone other than you, this security step can prevent any further account access. 
Ultimately, MFA is keeps your personal information safe, and also keeps you notified.
How to Get Started
Maybe you have already taken the steps to set up Multi-Factor Authentication on one of your accounts, and if so, great! You are taking the steps to better control your account access and secure your information.  
This feature comes available on Office 365 Cloud and Azure Cloud services, which you may already be using! Many other platforms support this security feature as well.  
If you are new to MFA or want to learn more about how to apply it in your workplace, Superior Managed IT is here to help. Visit our Managed Services Security page for more information.
1306 County Rd F West
Suite 200
Minneapolis, MN 55112
Service Desk: 612-788-9233
Inquiries: 612-999-6200

Contact Us Today for a Free Consultation
Your Business IT Partner
Superior Managed IT can manage, or assist you with, your IT assets across their entire lifecycle.
From assessment, design, migration and deployment to ongoing management and security. We serve small to midsize businesses across the Twin Cities as their trusted business technology partner.
IT Assessments & Advisory
Elastic & Redundant Cloud Solutions: Planning, Migration, Deployment & Management
Reliable Service Desk & Monitoring 365x7x24
Remote & On-Site Support
IT Security Solutions for Any Environment
Unified Communications  & Collaboration (UC&C) including VoIP, Messaging, IVR, Voicemail, Mobility, Presence, and Conferencing
And much more!
Contact us today for your free consultation!