Google tells us that "proficient computer skills, as defined by the ICAS Computer Skills Assessment Framework include Internet and email, computers, word processing, graphics and multimedia, spreadsheets and databases, and programming and scripting".
You don't need to be proficient in all of these, or any of these depending on your lifestyle, but since you're reading this, odds are you have (or want to have) proficiency in at least one of these areas.
With a large percent of businesses going paperless and/or hosting a majority of their enterprise online, it's only a benefit for you to increase your technological repertoire through online learning.
Websites that can turn you from tech-savvy to tech-proficient:
If you want to learn all that you can about your operating system, microsoft office, or get certifications to increase your marketability, we recommend Microsoft Learn.

The bulk of our customers use Microsoft products daily, and what better way to learn Windows 10 than from the source?
Sure, we provide resources customized to specific workflows, but when it comes to the basics of the in's and out's of the newest Microsoft operating system (Windows 10)- Learn is the place to learn it.
Go to Microsoft Learn, sign in with your Microsoft account, and let the knowledge flow!
Lynda.com is an American online education company offering video courses taught by industry experts in software, creative, and business skills.
Designed for those who learn best through audio/visual interpretation, this website is chock-full of endless resources to enrich your technical education.
If you want to learn more about today's business technology, check out Lynda.com's IT Library:
Not sure where to start? Try courses within these libraries, and choose a topic you are curious to learn more about:
IT and Hardware
Operating Systems
Windows
**Check with your local library to see if they participate in the membership program to get free access to the entire video library.
Udemy is another online learning website with certified instructor-led courses on a wide array of topics.
They offer affordable courses ranging from $9.99-$59.99 with several free options as well.
Maybe you want to increase your business' workflow efficiency by learning the ins and outs of Microsoft Excel: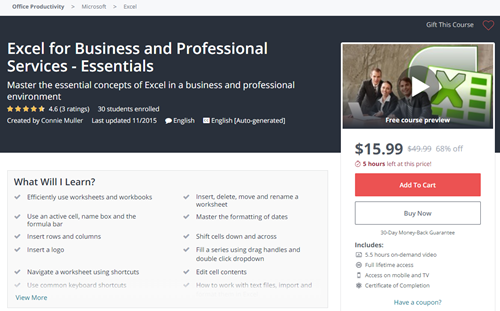 Or perhaps you'd like to brush up on your marketing acumen to become even more competitive in today's digital markets:


Whatever your self-improvement goals may be, it's worth-while to browse their courses and see if any of them spark your interest.
There is no shortage of resources for continuing education.
Lynda.com & Udemy are prime competitors in the online-learning market for finding those resources quickly and directly.
Getting Started
If either of these options interest you, follow the steps below to get started:
Check with your local library to see if they offer a free Lynda.com membership using your library card's barcode.
If your library participates in this service, follow this link to sign-in with your library card number
Our Stamp of Approval
Here at Superior Managed IT, we value online learning as a primary resource for growth.
In a field that is ever evolving and rapidly changing, these resources make continuous education very convenient and affordable.
What are you waiting for? Find topics that interest you and get learning!