Office 365: Your Workspace in the Cloud

What is Office 365?
Office 365 (O365) is the cloud hosted, subscription-based version of Microsoft's Office Suite productivity apps. Having a cloud-hosted environment comes with several perks to boost convenience in the digital age.
Businesses who've transitioned to Exchange Online in O365 for their mail servers no longer get interrupted by their server going offline, since email access is hosted via redundant server farms across the US. If one cloud server fails, your connection will be picked up by an available server.
In addition to 100% up-time, Exchange Online plans come with a built-in spam filter to help protect your end-users from falling prey to phishing scams- which is invaluable for today's ever-evolving security threats.
Maybe you already have a perfectly capable and reliable mail server, but don't want to pour money down the drain by buying on an Office license that is no longer usable once your computer fails.
At Superior Managed IT, we can guide you toward making a sound decision for your Office 365 upgrades best suited to your workplace.
Here is our top-recommended Office 365 subscription for small and mid-sized businesses
Business Premium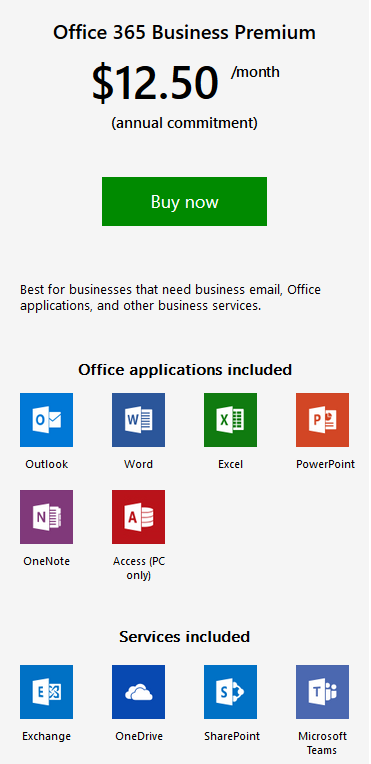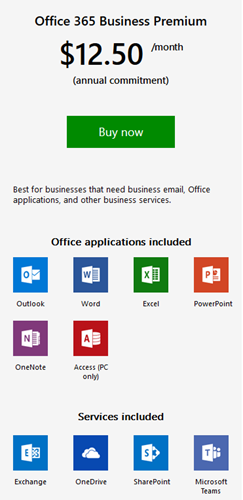 Here's why this subscription is our #1 recommendation:
All productivity apps are available as desktop applications as well as cloud applications, giving you access to your email and data whenever you need and wherever you are.
To access desktop downloads to install on your computer, simply go to www.office.com after purchasing your 1 year subscription, and sign-in.
On the right side of the screen below the search bar, you will see the option to "Install Office". Simply follow the instructions, and your apps will be installed!

If you'd rather save space on your hard drive, you can access your apps in this web interface as well.
The cloud apps enhance collaboration between colleagues and customers with the ability to send your document or presentation as a link within an email, or instant messaging software, like Microsoft Teams.
If you'd like more information on other subscriptions, or how to get started with Office 365 in your establishment, head over to our Contact Us page and send us an email.
1306 County Rd F West
Suite 200
Minneapolis, MN 55112
Service Desk: 612-788-9233
Inquiries: 612-999-6200

Contact Us Today for a Free Consultation
Your Business IT Partner
Superior Managed IT can manage, or assist you with, your IT assets across their entire lifecycle.
From assessment, design, migration and deployment to ongoing management and security. We serve small to midsize businesses across the Twin Cities as their trusted business technology partner.
IT Assessments & Advisory
Elastic & Redundant Cloud Solutions: Planning, Migration, Deployment & Management
Reliable Service Desk & Monitoring 365x7x24
Remote & On-Site Support
IT Security Solutions for Any Environment
Unified Communications  & Collaboration (UC&C) including VoIP, Messaging, IVR, Voicemail, Mobility, Presence, and Conferencing
And much more!
Contact us today for your free consultation!