How to Prepare for Cyberattacks as a Growing Business Interruption

Then vs. Now
Think back to 20 years ago. What would cause a business interruption in the year 2000? Back then, it was likely a thunderstorm, fire, hurricane, or flood. While those natural disasters still cause business interruptions, cyberattacks are rising to the top of the list. 
Businesses prepare for downtime from natural disasters with network devices like a UPS (uninterruptible power supply) for unexpected power outages, cloud backups for recovering on-premises data lost in a fire, etc. Which then raises the question: how are businesses preparing for a malicious disaster? 

Let's back up and see just how cyberattacks are intruding on your productivity and bottom-line. Cybercriminals and other unauthorized individuals are becoming more skilled than ever at exploiting vulnerabilities in a business' network, be it through traditional methods like phishing and spoofing emails, or through social engineering. 
What is 
S
ocial 
E
ngineering?
Social engineering it's a more sophisticated and targeted attack, made possible by the amount of personal identifiable information (PII) made public across the internet. Our technicians advise our customers to refrain from listing email address, first and last names, and other PII on their website to avoid being targeted by a social engineering con artist. Once this information is made available to strangers, it is at risk for being manipulated by someone who makes a career out of finding a way to use it for personal gain at your expense.  
Social engineering is so dangerous because it preys on human error through manipulation instead of a flow in software or the operating system. The end user won't always see it coming because it is masked to appear as their everyday communication. It can be difficult catch the red flags, especially if there aren't many. 
How Do Cyberattacks Cause a Business Interruption?
There are several types of attacks that could completely cripple your ability to perform normal business activities, including: 
Malware: m

alicious code

 (v

iruses,

 ransomware, worms, spyware)

 

designed to cause extensive damage to data

 and systems, hold data for ransom, or gain unauthorized access to a network.

 

Distributed Denial of Service (DDoS) 

attacks

:

 

makes an online service (website/app) unavailable by overwhelming it with traffic from multiple sources. 

 

Social Engineering: used to gain the trust of a targeted individual and relying on that individual to release intellectual property or financial information.

 
It's no secret that the pandemic has hosted a surge of attacks on businesses of all sizes and industries.  Unfortunately, a large amount of businesses don't have the budget or expertise available in-house to not only detect the problem, but quickly resolve it and prevent it from happening again. Without the staff to address an attack, it only exacerbates the interruption, causing a loss in both productivity and revenue. 
The 
Effect
 of Third-Party Victims 
on Your Business
I'm sure most of us have experienced a vendor site that was offline for one reason or another. Depending on your line of business, a vendor website can be crucial to your daily operations. If a vendor were to be a target of a cyberattack, your company would be affected even though it wasn't a direct target. Imagine what would happen if one of your vendors fell prey to an attack, and it resulted in a complete shutdown of its warehouse or website. An event of this caliber could impact your productivity, which would then trickle down to your customers and create pain points with your service offerings. 
P
rotect Your Business 
from 
a Malicious Interruption
You might have heard the saying, "it's not if you'll be a victim of a data breach, but when". Much like a natural disaster, a malicious disaster, or cyber attack, is impossible to prevent completely. However, you certainly can, and should, put up a strong defense.  
Being proactive and vigilant with implementing standards and processes to increase your security can help lower your chance of business interruption due to a cyberattack. 
Here are some tips to help you get started:
Create a Risk Management Plan

 


Construct a formal, written document outlining your organization's risk management process. This is a comprehensive, but critical first step. 

 
Backups, Backups, Backups!
The best way to combat 

data loss from a cyberattack is 

to have a Backup and Disaster Recovery (BDR) backup plan in place to 

take

 full

 and differential

 backups

 of your servers and 

power user workstations

. 

 
Evaluate Network Device Enhancements, Upgrades, and Maintenance 


Enhancements & Upgrades

 


Next-generation firewalls, 

like a 

FortiGate 60F model from Fortinet

, for example, 

are

 robust firewall

s

 with the ability to 

provide integrated end-to-end detection, threat intelligence sharing, and automated remediation with the proper security fabric 

enhancements. 

Typically, these features and support don't come out of the box with the device

 

and are more than likely an add-on 

contract that is well worth the cost to save your business from a disaster. 

 

Network Maintenance Plan 
A solid 

network maintenance plan

 will ensure that 

all 

of

 

the critical aspects of

 your 

network are 

proactively 

monitored on a regular basis

.

 This includes firmware updates on devices, software updates and operating system patches.

 
Implement a Cybersecurity Policy 
E

ducat

ing

 employees

 on how to identify threats

 

in their 

daily operations will greatly reduce the chances of 

a successful breach from email attacks. 

Security Awareness Training

 is becoming 

widely adopted 

by organizations of all siz

es to bring awareness to the methods hackers use

 and how to 

defend their business against them.

 
Implement a Strict Password Policy 
A strict password policy r

equire

s

 a password length 

of a predetermined # of

 characters

 (now recommended to have at least 15)

,

 with 

at least one number, one uppercase letter, one lowercase letter and one special symbol.

 

Do not use any dictionary words, and have 

employees change system passwords every 90 days

.

 
Audit Employee Access to Company Data 
An audit of your file shares and user permissions can give valuable insig

ht on who has 

access to what data. 

Oversights happen, so it's good to take a deep dive into your file system to ensure your data and intellectual property is protected

 and in good hands.

 
Limit Software Installs to Administrators/System Administrators 
Using the 

User Account Control

 (

UAC

) feature in Windows to prevent unauthorized 

changes to the operating system. Set these to only allow an administrator to authorize these changes in order to avoid the accidental installation of malicious software.

 
Get Cybersecurity Insurance Coverage 
Protect your business against the risks associated with data breaches and hacking with a 

cybersecurity insurance policy

.

 
Cybersecurity Coverage 
Options
More and more commercial insurance underwriters are offering policies that will not only cover business interruption losses due to cybercrime like data breaches, but also offer cyber liability coverage.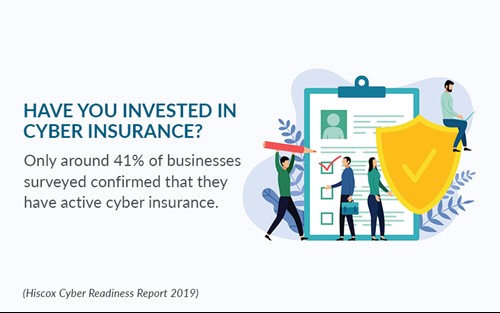 Data Breach Insurance
Geared toward smaller businesses, data breach insurance helps respond to a data breach if Personally Identifiable Information (PII) or Protected Health Information (PHI) gets lost or stolen, whether it's from an exploited network vulnerability, or employee error. 
Coverages may include:
Lost b

usiness income

 and expense

 coverage

 

Prior acts coverage

:

 help cover

ing

 claims related to a breach

 that occurred before

 your policy's effective date.

 

Extortion 

c

overage

: help covering the 

amount you paid 

for your 

ransomed data

 
Cyber Liability Insurance
This coverage is recommended for larger businesses and "helps cover financial losses due to cyberattacks or other tech-related risks, as well as privacy investigations or lawsuits following an attack" according to The Hartford. 
Coverages
 may
 include:
Legal services to help you meet state and federal regulations

 

Notification

s

 to alert affected customers that their personal information was compromised

 

Ransom

 paid out to ransomware extortionists.

 

Lost income from 

business interruption

 

C

ustomer or employee privacy and security

 lawsuits

 

F

ines from state and federal 

regulatory 

agencies

 
What's Right for You?
To know more about if your business could benefit from one or more cybersecurity policies, ask yourself if your company meets any of the following criteria: 
Do we collect, store, send or receive PII or PHI?

 

Do we work in an industry with rules about customer information, such as healthcare, education or finance?

 

What would we do if we faced a cyberattack today?

 
Start Taking A
ction to Protect Your Business
Too many businesses of all sizes aren't prepared for the intrusion of a crippling cyberattack on their businesses. Contact a member of our team today to find out how we can help you prepare your company's policies and procedures to minimize your exposure to a business interruption from a cyberattack.
1306 County Rd F West
Suite 200
Minneapolis, MN 55112
Service Desk: 612-788-9233
Inquiries: 612-999-6200

Contact Us Today for a Free Consultation
Your Business IT Partner
Superior Managed IT can manage, or assist you with, your IT assets across their entire lifecycle.
From assessment, design, migration and deployment to ongoing management and security. We serve small to midsize businesses across the Twin Cities as their trusted business technology partner.
IT Assessments & Advisory
Elastic & Redundant Cloud Solutions: Planning, Migration, Deployment & Management
Reliable Service Desk & Monitoring 365x7x24
Remote & On-Site Support
IT Security Solutions for Any Environment
Unified Communications  & Collaboration (UC&C) including VoIP, Messaging, IVR, Voicemail, Mobility, Presence, and Conferencing
And much more!
Contact us today for your free consultation!