Phishing: How to Protect Your Business from Email Fraud

For all the productivity-boosting qualities it holds, email has transformed business communication in ways that are not all for the better. 
Email hacking is incredibly common, and one of the most successful tactics used by hackers is known as phishing. 
The bad news:  
Email hackers can steal your information without you realizing it. 
The good news:  
Email hackers can only steal your information if you allow them to. 
The BEST news: 
Superior Managed IT

 

can teach you the red flags to be aware of when reading email and implement services within your email server to catch these traps and quarantine them before they hit your inbox.  
What is Phishing? 
Microsoft's Safety & Security Center explains phishing as "a type of online identity theft".  
It uses email attachments and links to fraudulent websites in the body of the email which are designed to trick you into entering your credit card numbers, passwords, account data, or other information.  
Odds are you have encountered a phishing attempt yourself. 
How Do I Prevent It? 
Email fraud is becoming quite sophisticated and can be disguised in a way that is hardly noticeable. Even those who are trained in email security can fall victim if they aren't paying close enough attention to detail. 
Therefore, in addition to enhancing user security policies (which we have discussed in previous blog posts "Tips to Maintaining Security as a Small Business", and "Bad Passwords Make Security Worthless!") we have automated solutions for catching these malicious attempts before they even reach your inbox.  
These solutions are called spam filters. 
What is a SPAM Filter? 
A spam filter is an email service that is designed to keep spam from reaching your inbox.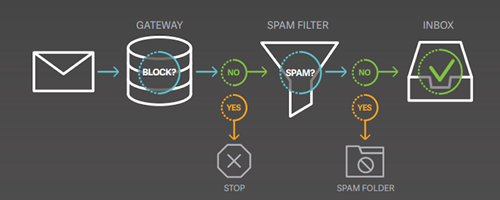 It works by halting mail upon arrival to your business's email server using a variety of content filters that scan the content of the message to identify if it is spam or not.
Content filters will scan a message for malicious content and flag suspicious mail transfer identifiers. These include really long/unfamiliar URLs.
For more information about spam filters, send us a message to see how we can leverage them for your business!
1306 County Rd F West
Suite 200
Minneapolis, MN 55112
Service Desk: 612-788-9233
Inquiries: 612-999-6200

Contact Us Today for a Free Consultation
Your Business IT Partner
Superior Managed IT can manage, or assist you with, your IT assets across their entire lifecycle.
From assessment, design, migration and deployment to ongoing management and security. We serve small to midsize businesses across the Twin Cities as their trusted business technology partner.
IT Assessments & Advisory
Elastic & Redundant Cloud Solutions: Planning, Migration, Deployment & Management
Reliable Service Desk & Monitoring 365x7x24
Remote & On-Site Support
IT Security Solutions for Any Environment
Unified Communications  & Collaboration (UC&C) including VoIP, Messaging, IVR, Voicemail, Mobility, Presence, and Conferencing
And much more!
Contact us today for your free consultation!